***Latest Offer - £80 OFF One-Time Payments***
Enjoy the online free trial then join the online-only full 10-Wk course for just £80 (reduced from £160).
Use coupon code
HALFPRICE
This listing is for the full Online 10-week Absolute Beginners Swing Jive Course - if you're looking for the free trial please head to this link.

The online course is equivalent to 10 x 1-hour weekly lessons. Lesson 1 is a duplicate of the free trial lesson, all lessons are available immediately.
When making a one-time online course booking, the on-demand content remains available for 12 months from the date that you book.
ABOUT THE ABSOLUTE BEGINNERS SWINGJIVE COURSE

This Absolute Beginners SwingJive Course is an introduction to a whole new world of fun and friendly social partner dancing. Learn to dance with your partner to a wide range of jive, swing, rock'n'roll, rhythm'n'blues, boogie-woogie, jazz, soul and pop music.
So, if you're looking to spend quality time getting active and learning a fun, new skill with a partner, this is the perfect course for you. You can try the first lesson free of charge to make sure you are happy before committing to the full course.
Who is this course for?
Anyone with no previous knowledge, experience or known talent for dancing - This Absolute Beginners SwingJive Course is aimed at people who have never taken a dance class before, or who have tried classes before and found them too confusing. This course has been specially formulated to provide a smooth progression to help you build your confidence and abilities.
Two people to Learn Together - It's a partnered class, so you should have (at least) two people in the same place at the same time who are willing to dance with each other to enjoy our SwingJive classes as intended. There are "leader" and "follower" roles within each partnership, it doesn't matter whether partnerships are made up of same-gender or different-gender participants, nor which role is taken by which gender. Enjoy extra value by learning both roles!
Aimed at Adults - Whilst any aged participants could enjoy the course, we teach with an adult audience in mind. Typically, participating pairings on our courses include romantic partners, pairs or groups of friends, family members, co-workers. Typical motivations include wanting to;
get active
learn a new skill
develop a love of retro
spend quality time with others
improve mental health
improve social life
prepare for a wedding first dance
enhance the enjoyment of an upcoming celebration, party, festival, music event or holiday
This Course is Not For...
Experienced jivers, rock'n'rollers or lindy hoppers.
Anyone who only wants to learn lindy hop - although our SwingJive courses are a great foundation for lindy hop.
Anyone with health, safety or physical limitations - You'll need to decide whether you can participate in the classes safely. If you're unsure, please try our free trial class but stop if you feel unable to continue for any reason. Participation is at your own risk.
Your Instructors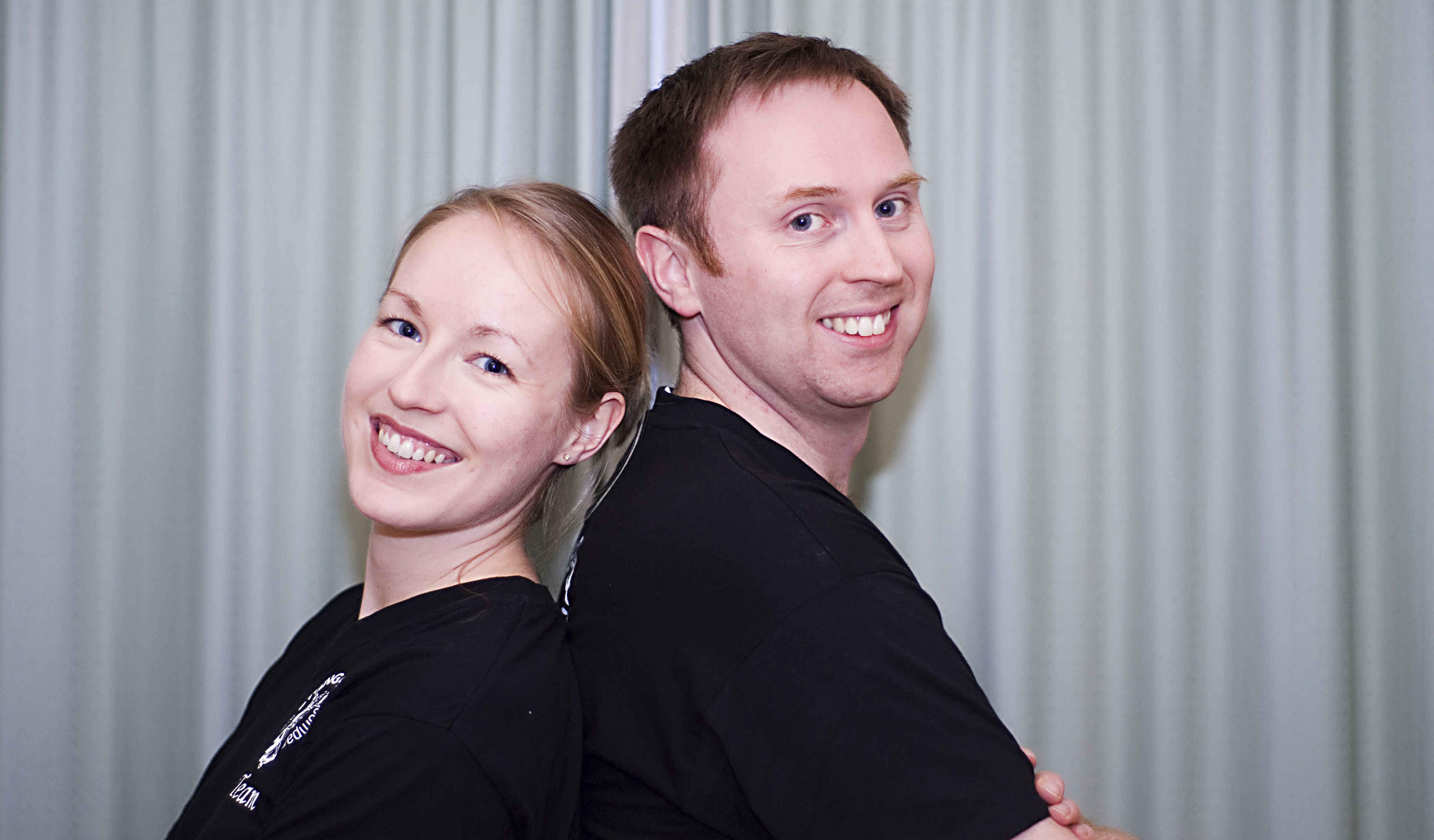 Debbie & Brooke own and run The Swing Dance Company, which has introduced thousands of nervous new beginners to its Absolute Beginners SwingJive course in real-world venues across the south of England for nearly two decades.
Debbie & Brooke created these courses back in the early 2000s. Having taught in person and built up an excellent team of instructors, Brooke & Debbie have enjoyed creating continuation courses, running live music events and social events to support their community of dancers.
You can find out more about Brooke and Debbie and The Swing Dance Company on this link.
Check Out The Practice Music On Our Course Playlist
Here's What Others Have Said About Our Online Courses...
"Hi Debbie and Brooke, we just want to let you know that we are really enjoying swing dancing, and think your lessons are great, well broken down and clear to follow and understand. Whenever we dance (and we try to do a little most days) it makes us smile! A little bit of fun in this strange world. So thank you ;)", Chris and Steve, Dorset
"At our ripe old ages and despite having danced since teenagers (though not together until we met 3 years ago) we had never been able to jive. Then we saw your classes advertised and plucked up the courage to join. It was one of the best things we have done together and we have so enjoyed the course. I have enrolled us on the Intermediate Course and I am sure you will be as patient with us as you have been on our Beginners' Course. Looking forward to resuming dancing again. Best wishes to all.", Valerie, Hampshire
WHY PRE-RECORDED ONLINE COURSES ARE GREAT!
A pre-recorded online learning experience is different from taking either a real world-class in a venue or a live online class, it offers numerous advantages:
Pause, Slow Down, Rewind and Replay as often as you like to review that crucial moment or practice a move again and again
Videos include "Chapters" so you can find and go back to that key moment easily
Excellent audio and visual quality - no worries about dropping your connection
Dictate your own pace - follow each section back-to-back or take regular breaks - you're in control!
Take the lessons anywhere, anytime! Got a holiday or work trip booked? Struggling with babysitters? Worried about getting ill? No problem, just catch up later!
Refer back at any time! Learn now and you can head back months later for a reminder!
Enjoy taking those first steps in the privacy of your own home & contact the teachers privately for feedback
Make it a group experience! Invite your friends and family around to join in at no extra cost
No travel time or expense
There are two roles, leader and follower, so once you've learnt one role you can try the other role at no extra cost
Frequently Asked Questions
When does the course start and finish?
Once booked onto the full course you'll have immediate access to all lessons. These lessons remain available on-demand for 12 months following your join date.
How long do I have access to the course?
Access for those paying a one-time course fee will be for 12 months following the date of your course booking.
What if I am unhappy with the course?
We would never want you to be unhappy! If you are unsatisfied with your purchase, contact us in the first 14 days and we will give you a full refund.
Where can I access this lesson?
After enrolling you will have unlimited access to the published sections of this course. This means that you can access it from any internet-connected device with a screen.
Am I too old to take this class?
Our courses are designed with adults in mind, and the basic guidance would be that if you can walk comfortably then you should be able to fully participate in this class. The majority of participants at our real-world classes tend to be in the 35-69 age range but we also have plenty who are in their teens and twenties, as well as in their 70s and 80s (even a few in their 90s!).
Am I too young to take this class?
The content is entirely family-friendly and youngsters may enjoy learning moves on this course, but there are two reasons why younger people may enjoy these classes less than adults. 1) We teach with adult beginners in mind. As youngsters tend to learn quicker but be less patient than adults, so they may find the pace of tuition slower than they would ideally like. 2) This dance is better when you can connect with your partner, which requires a small amount of upper body strength. Physically, under-12s might find this aspect difficult, which may affect their enjoyment of the dance.
Is this a lindy hop course?
No. Lindy hop is a fairly challenging style to learn so we don't recommend it as a starting point for anyone without previous dance experience. Our SwingJive courses are not lindy hop courses, we will produce online lindy hop courses in the future. SwingJive courses act as a fantastic foundation to progress onto learning lindy hop, and some lindy hop is incorporated within our continuation SwingJive 10 week courses.
How is modern jive different to SwingJive?
Our SwingJive courses draw on influences from various social partner dances including Modern Jive, Rock'n'Roll and Lindy Hop. We constructed our courses to provide an easy entry and a progressive pathway for new beginners so that they would develop the confidence to get up and dance at social events and local dance clubs. At the beginner level there are similarities to modern jive, although there are technical, timing and musical differences, moves are also drawn from other styles. In our continuation courses, there are fewer similarities.
Do I need a partner?
Yes, SwingJive is primarily a partner dance so you'll need to make sure you have somebody to participate with you.
Can more than 2 of us participate in these classes?
You are welcome to invite additional participants to join in with you as long as the person named on the booking is present, guests are in the same physical space and it's for domestic enjoyment (eg it's fine for your household to gather or to invite friends over).
However, it's not acceptable to share your personal login and password details, the content should only be accessed when the primary user is present. Nor are these courses to be used on a commercial basis without our permission. For example, you can't charge other people to watch the content or show the content on commercial premises. Anybody abusing their booking will be unenrolled.
Can I watch on my TV
Even if you don't have a smart TV, you can watch on your TV via your phone or similar device. Some devices may allow you to cast directly to your TV, alternatively, you can use a USB to HDMI cable to connect your mobile phone to your TV!
If I pay for the online course, can I attend a course at one of the local venues?
No, if you want to attend a course at a local venue you should book from our "real world" events website via theswingdancecompany.co.uk/swingjive-courses/
Booking and paying for the online course on this page will not register you to attend any classes at local venues.
Dancers booking courses at our local venues will receive vouchers to access online content after their course starts.